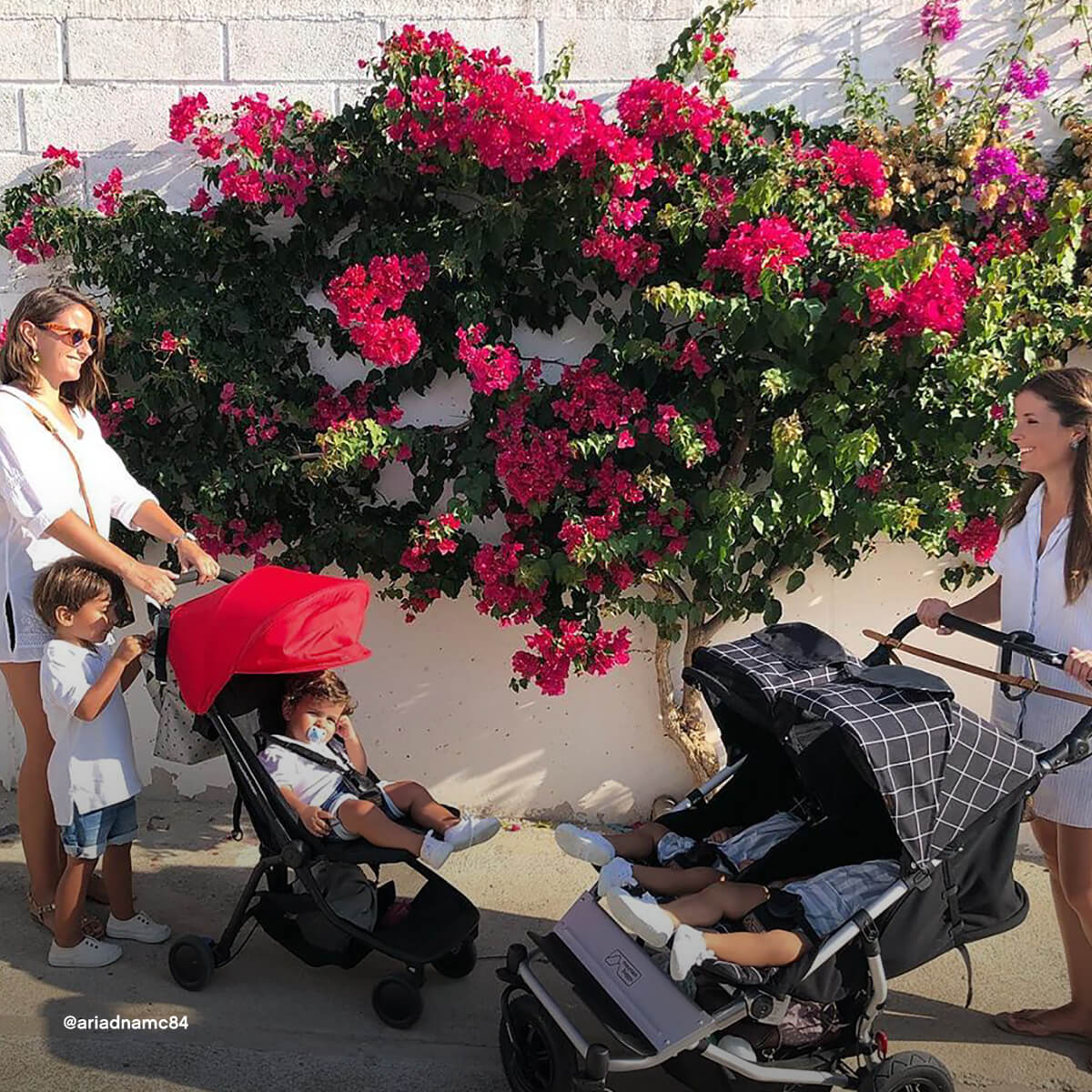 pioneers of 4-wheel, all terrain adventure
Mountain Buggy® are the revered pioneers of all terrain adventure; the first ever to bring world class engineering and performance to a buggy platform that has been inspired by New Zealand's landscape, delivering award winning products to parents who crave to live an extraordinary life without limit™ for over 30 years.

Committed to staying ahead of the game, with products that are built to last, and designed to fit varying needs and lifestyles, whether that be for travel, city dwellers, off road adventures or a growing family. Parents love the intuitive, easy feel, the robust engineering; and children love the comfort delivered on adventures. Staying true to the brand's authenticity and heritage, all Mountain Buggy® products have been thoughtfully crafted to capture the rich award winning DNA of manoeuvrability, adaptability, durability and simplicity.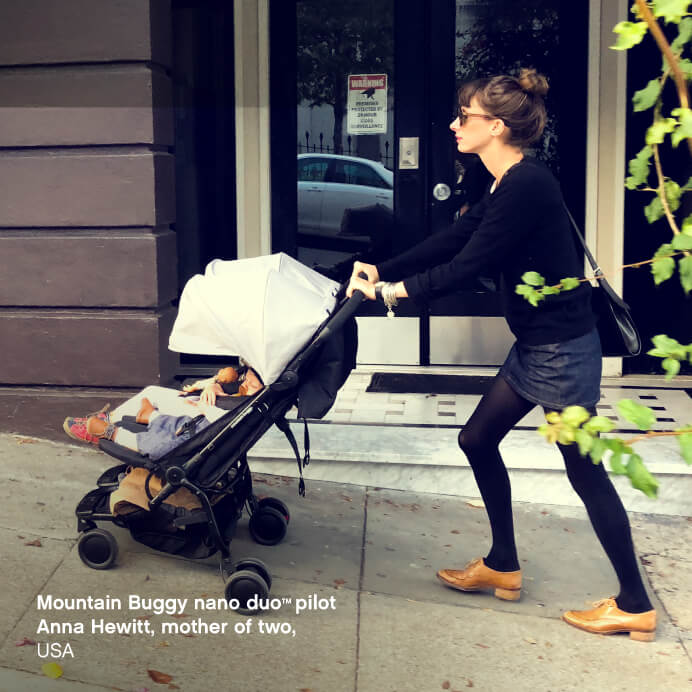 Doesn't 4-wheel mean big and heavy?
Whether you are looking at a 3 OR 4 wheel buggy, they do all come in varying shapes, weights and sizes. This is because each have been designed to best cater for an individual's daily use and lifestyle; so do take the time to consider how you plan to use your buggy day-to-day and consider how potentially you may need to use for other purposes eg. travel. Thinking long term now, ensures you're making a well-informed choice early, saving you on spending more later.
Some parents know with their lifestyle, that an easy, compact buggy will suit them for city living or travel, and generally, these buggies are designed with only the relevant features, including puncture proof, lighter EVA tyres - more for the urban dwellers where rugged terrain isn't a daily occurrence, and everything is as fuss free as possible.​
Others know they want a fully featured buggy for all-terrain adventure, that's a comfortable size. These types of buggies is where you will find the increase in size and weight, but that's due to what it will offer you - enabling much more flexibility, versatility, performance and control when out and about; especially when considering taking two children out.
​
Whatever the case, we do recommend however, that you look for a buggy that easily pops up and down kerbs without too much brute force (we underestimate how often a parent does this every day!), manoeuvrability around crowded spaces, and lifting in and out of the car with ease.​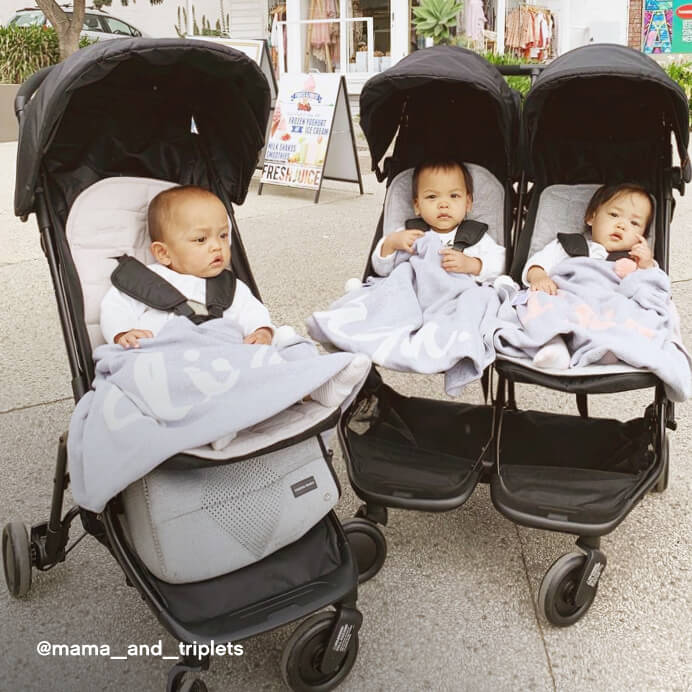 Aren't 4-wheel buggies harder to manoeuvre?
They shouldn't feel 'harder', but they will feel and perform differently to a 3-wheel buggy; so it's important to look for a buggy that will allow you the option to pop the two front wheels to full 360° swivel, as this enhances the manoeuvrability.
Also, depending on the type of seat is on the buggy – either a fabric sling seat OR a modular seat unit – this also plays into the buggy handling. The more snug inside the buggy frame the seat is sitting, the easier the buggy performs and kerb pops because the centre of gravity and weight distribution is at its optimum. You will find this more so with fabric sling seats. Modular seats often sit higher on the frame because of its functionality to parent or forward face, therefore the handling feels different and to pop up and down kerbs, it requires a bit more weight from you (and this applies to a single or a double buggy).​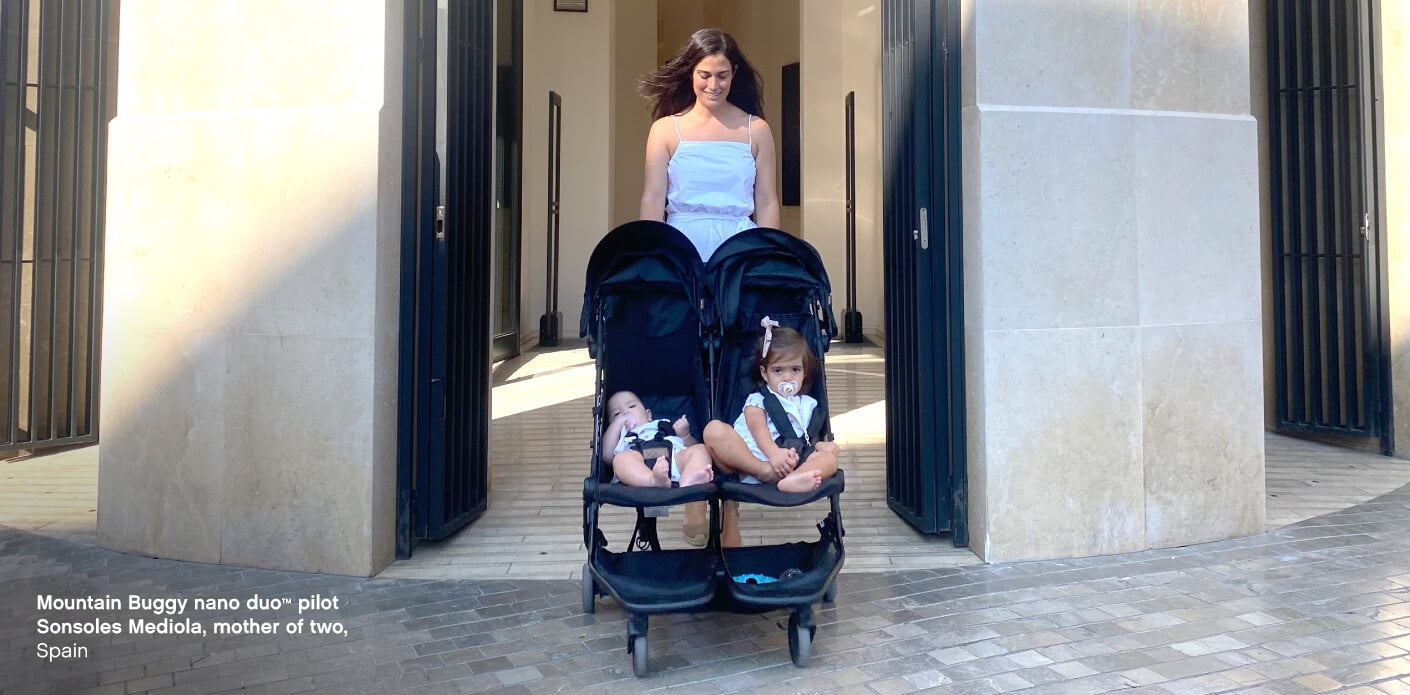 Will I still be able to get through tight spaces like café's or doorways?
Considering standard door widths vary by market, on average, an interior door is usually around 76-82cm / 30-32", and exterior doors tend to be wider still.
Fortunately, all Mountain Buggy® 4-wheelers are slimmer than the average door size, measuring from 54-73cm / 21-25", and this includes both our side-by-side buggies.
However, if you live in an urban space where there are elevators, we recommend you measure this, as these do tend to be typically slimmer.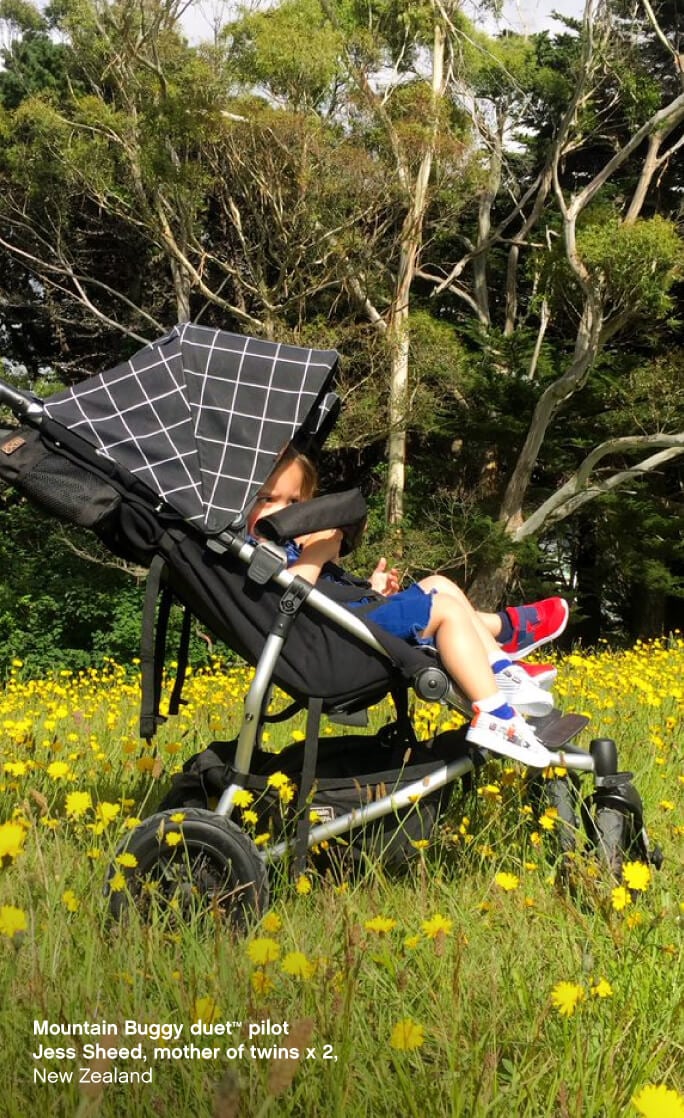 What's going to be easier for me for day-to-day life with two children? A buggy with fabric sling seats, or modular seats?​​
Without a doubt, both seating options will provide what you need for daily adventures. You just need to determine what kind flexibility and freedom you are after, and whether these fit into your lifestyle long term. Mountain Buggy® are pioneers of masterfully engineering the fabric sling seat to sit perfectly within the frame; that is why there are so many benefits as to why you may choose to consider fabric sling seats:
With the right design geometry and engineering, a fabric sling seat allows the child to sit snug inside the buggy frame, as opposed to on top of the frame like how a modular seat is positioned. This provides a lower centre of gravity at the right height, instantly delivering in an easier push, a lighter kerb pop (you don't need as much weight or effort to pop the nose of the buggy up and over a kerb), and also provides better balance and stability.

Fabric sling seats should deliver an instant built-in, fully lie flat, newborn bed, right out of the box. This is so convenient for the budget conscious parent who needn't worry about purchasing additional items for their newborn (although they are available).

These style seats provide the most room and give for your growing child and allows for much heavier weight capacities.

Compared to a modular seat which has the additional weight of the seat frame itself, fabric sling seats weigh less, so enhances the ease of navigating around with your child.

To fold, you don't have to worry about taking the fabric sling seats off, it just folds down into itself in a flat pack; unlike a modular buggy where you more than likely need to take the seat units off. However, if you don't need to take the seats off, be aware it wouldn't usually be as flat packed as a fabric sling seat buggy.

A fabric sling seat is essentially a structured hammock, which when moving, this can soothe your child with its gentle swaying motion.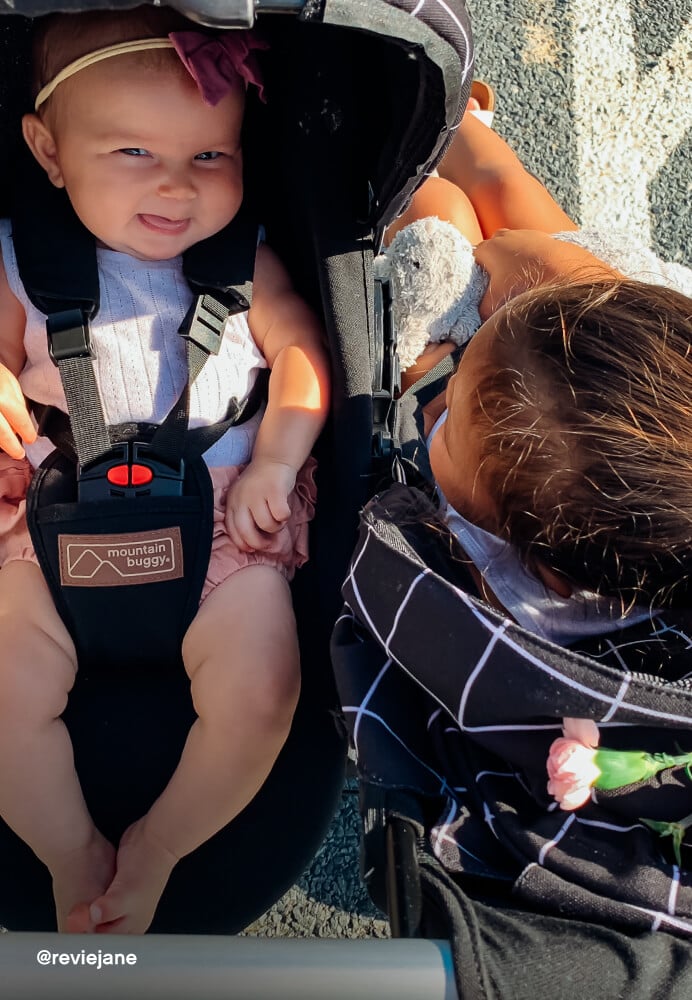 I like what fabric sling seats offer and the benefits, but what if I want my baby to see me - and me to see them – how can I do this with a 4-wheel where my baby is always facing forward?​​​
Most 4-wheel buggies will allow an option to parent face for newborns with the likes of a carrycot or infant car seat. This is perfect for those first months, as being face-to-face increases the bonding experience between parent and child, whilst also supporting in brain development.
Our cocoon™ and carrycot plus™ both provide this mode, and are cosy, lie flat beds for use on and off the buggy. They are certified for overnight sleep, perfect for your baby to sleep at home or away. Most carrycots in market only deliver a lie flat function for a very short period of time, which can be costly. The big 'plus' about our carrycot plus™, is that it offers three unique parent facing solutions in one bundle; lie flat mode, incline mode (which can help relieve discomfort for babies who suffer from reflux), and a 15kg / 33lbs capacity parent facing seat - so you can face your growing toddler when in the buggy just like a modular seat, delivering in absolute longevity and value for money.
Both cocoon™ and carrycot plus™ come as single beds or for twins – a first in the world to offer a unique big bed where your little ones can continue their special bond together.
learn more about cocoon™
learn more about carrycot plus™

learn more about cocoon™ for twins
learn more about carrycot plus™ for twins